Some say that Bruges, Amsterdam or perhaps St. Petersburg is the Venice of the North. But after visiting all of these places I can tell for sure that's not true!  Do any of these cities get Amazon delivery by boat, or have hundreds of houses with front doors accessible only from a boat? Well, Venice does! This fairy-tale-like city is nestled on numerous islands and with its Gothic style architecture is a place like no other. 
Why go?
If you are interested in a romantic and leisurely city gateway Venice is the destination for you.

Perfect for a weekend. 48 hours is exactly how much you need to experience all the best that Venice has to offer. Not too long and not too short.

Because – Burano! No visit to Venice is complete without going to Burano – a colorful and peaceful fishermen's island just 50 minutes away by boat. A highlight of my trip to Venice.
Transportation
Apart from the Santa Croce neighborhood, Venice is completely car-free which is a major contributor to its charm and peacefulness. There is a parking lot near Venice train station. However, if you are traveling by car it might be best to ditch your vehicle in one of the nearby cities and travel to the Venice by train. We decided to do exactly that and left our car in Verona. Parking our car in Verona cost us only 7 Euros a day instead of 20 in Venice. If you are considering doing the same you can buy cheaper early-bird train tickets here.
And here is map to a parking lot in Verona.
Traveling around Venice is easy – just walk! Though, if you are too tired or have other reasons Venice has quite extensive public boat system (Vaporetto). Map here.  You can also use Vaporetto to get to/from the airport and nearby islands. There are water taxis available for those who prefer private transportation.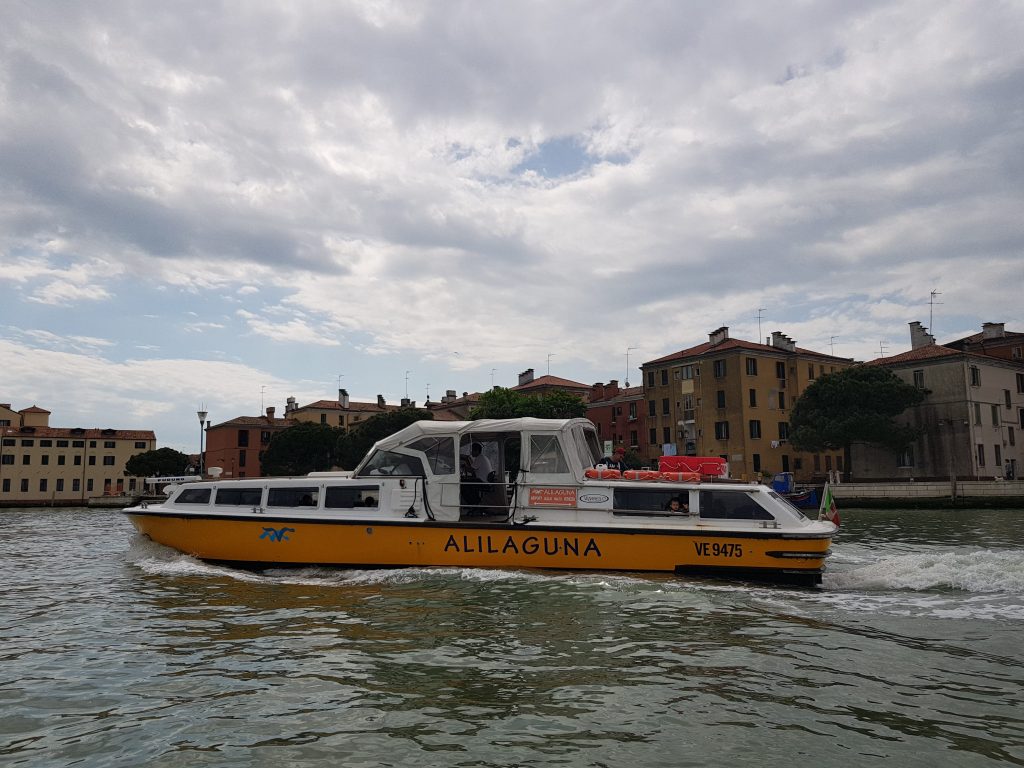 Day 1 – Visit Murano & Burano
Murano
After breakfast head straight to your closest Vaporetto station and buy 24h hour boat ticket (Euros 20). Jump on a boat that heads to Murano – a glass-making island. Murano is great for just strolling around and looking inside the various glass-workshops. I have added some key attractions below, so you know how to plan your walk. Depending on whether you visit any restaurants/cafes plan to stay here 1 to 3 hours.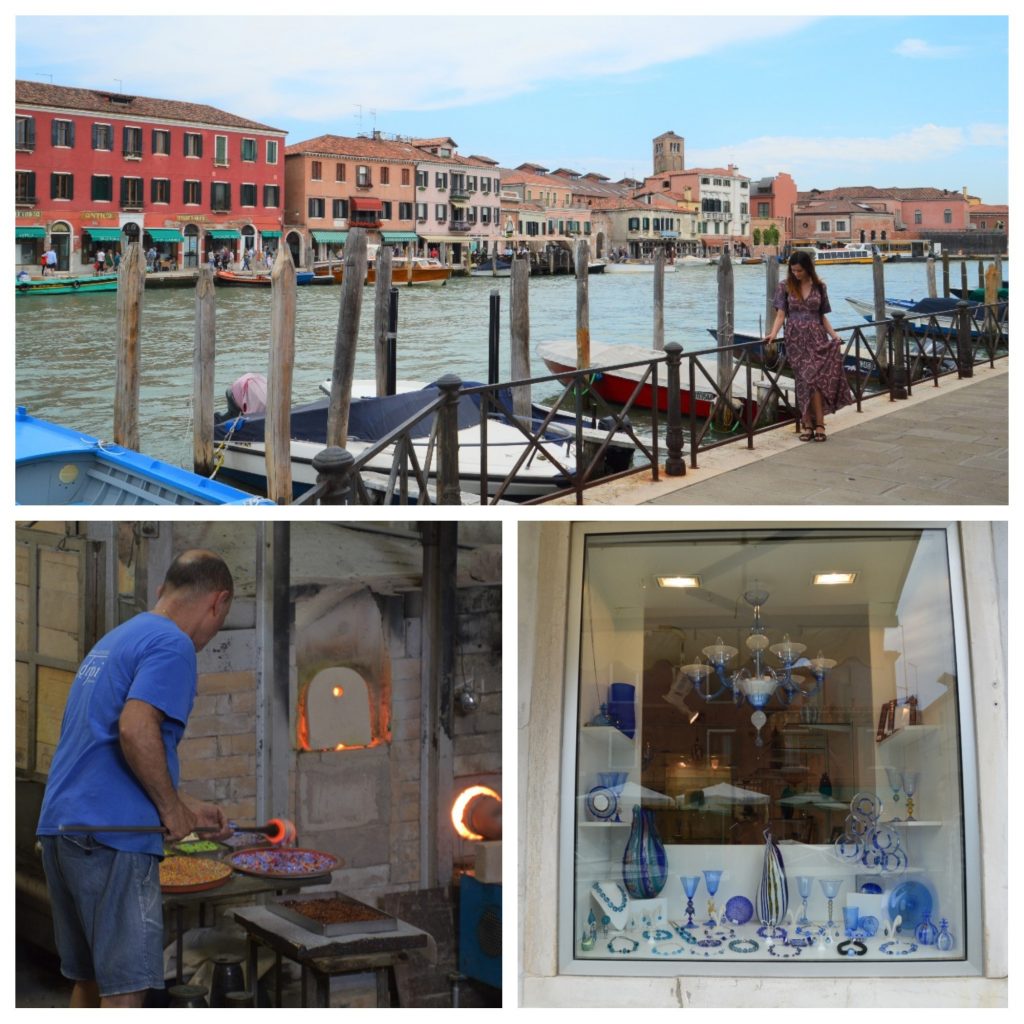 Key attractions
Murano art glass – Free visits to a glass making factory. This will only take about 5-10 minutes but is totally worth it.
Torre dell'Orologio – Head towards the heart of Murano. Along the way window-shop or visit various glass shops.
Church of Santa Maria e San Donato – 7th century church.
Faro di Murano – From here you can catch vaporetto No.12 to Burano.
Burano
Burano is a beautiful island filled with colorful fishermen's houses. The main street is busy with tourists, though the rest of the island is quiet and perfect for pictures. Burano is not big, but I would allocate at least 2 hours here.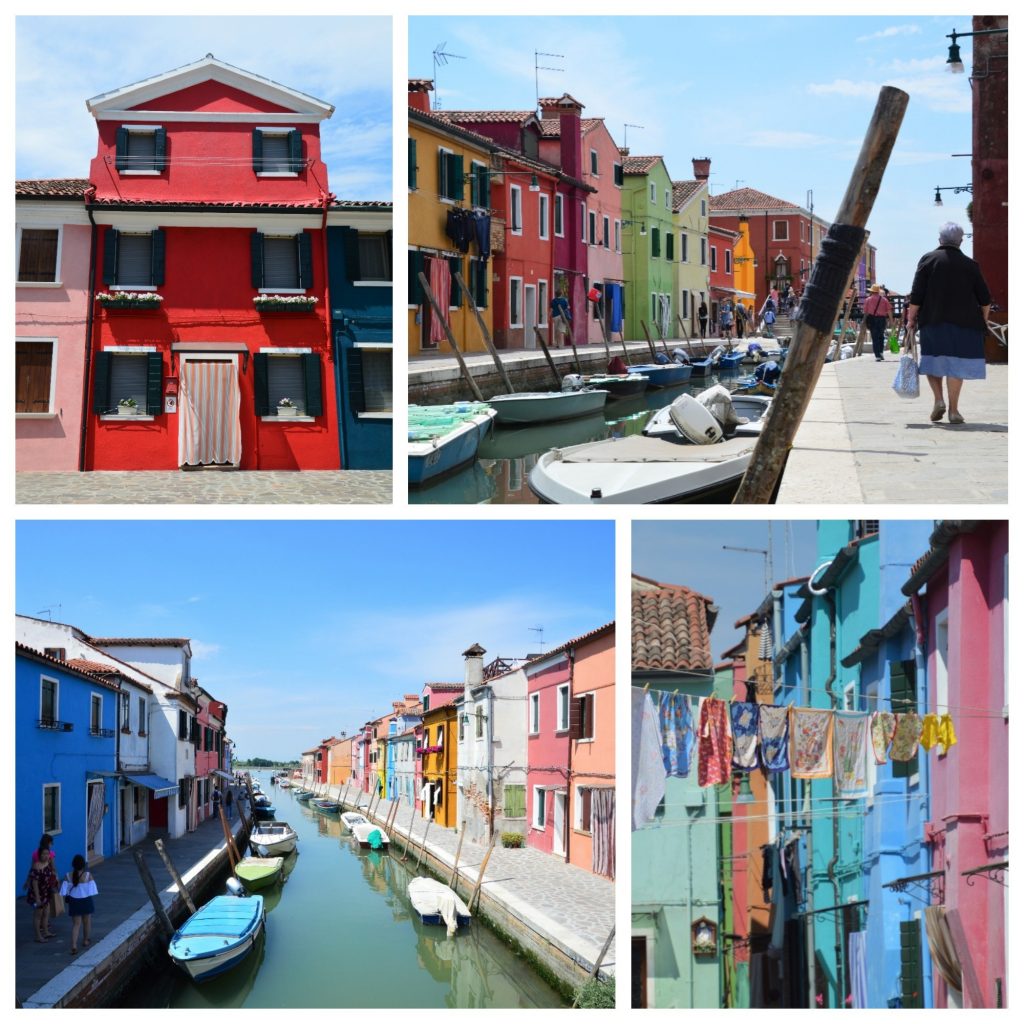 Key attractions
Love viewing bridge 
Parrocchia San Martino Vescovo – Church with a lovely square.
Lace museum – Burano is also known for its lace making. So if it is something you are interested in there is a museum dedicated to it.
Via Baldassare Gallupi – Main street packed with shops and restaurants.
Bepis house – Most colored house in the island.
After you have finished admiring this stunning island, return to Venice. Spend the evening watching a sunset from one of the bridges. Or, if your finances allow, take a gondola ride. The prices are between 80-100 Euros for a 30-45 minute ride.

Day 2 – Explore Venice
The beauty of Venice hides in its narrow streets and canals that are away from major tourist attractions. So unless it's raining or cold I would suggest selecting only 1 or 2 indoor activities and spend the rest of the time strolling around the city. Though, if you decide to go to museums make sure you buy tickets online, otherwise, you might waste hours queuing!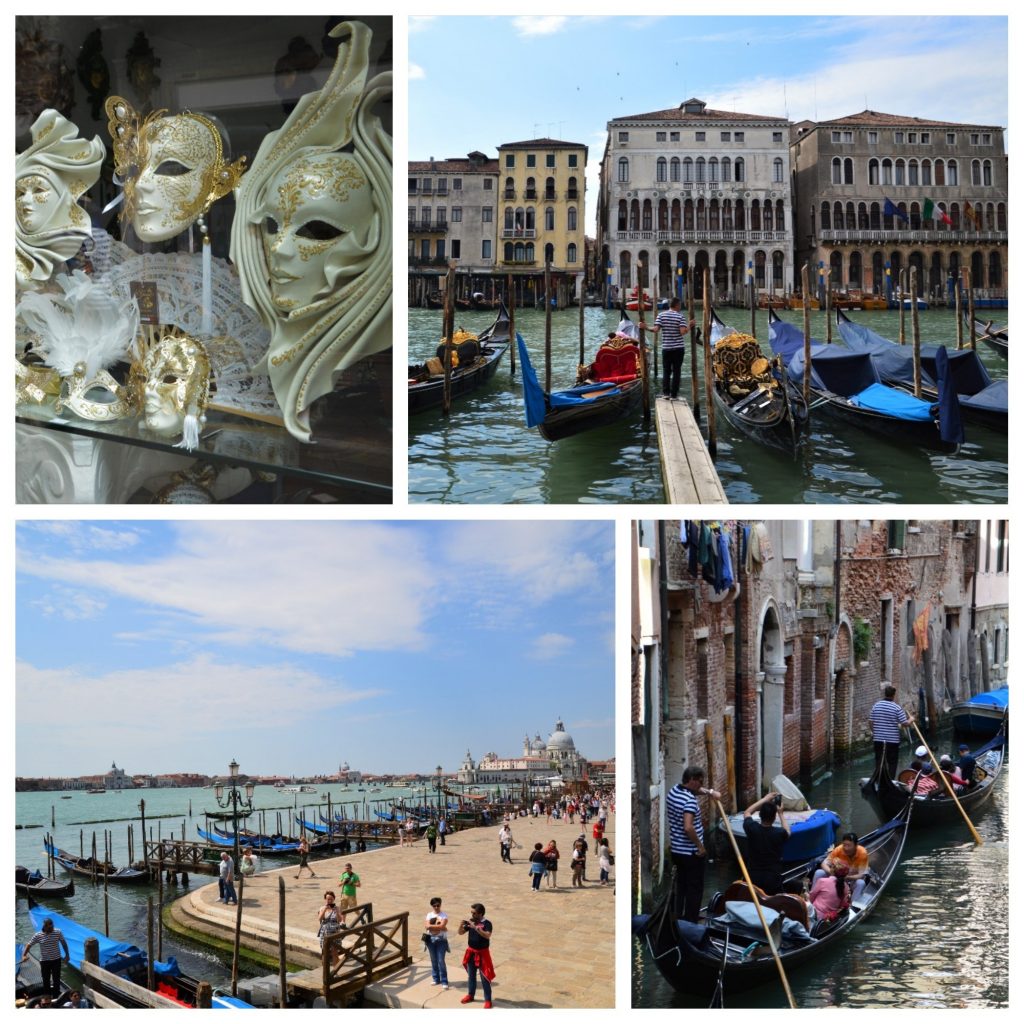 Here are the top tourist attractions you can follow to guide your route.
Scalzi Bridge – If you arrive by train this will be your starting point.
Rialto Bridge – Top tourist attraction overlooking the grand canal.
Monument of Bartolomeo – Nice square.
Venetian arsenal – Shipyard.
Bridge of sights – The enclosed bridge is made of white limestone, has windows with stone bars, passes over the Rio di Palazzo, and connects the New Prison (Prigioni Nuove) to the interrogation rooms in the Doge's Palace. The view from the Bridge of Sighs was the last view of Venice that convicts saw before their imprisonment. (Source: Wikipedia).
Doges palace – Gothic palace, chance to walk over Bridge of sights. The ticket also includes visits to Museo Correr, Museo Archeologico Nazionale and Monumental Rooms of the Biblioteca Nazionale Marciana. Tickets for 20 Euros.
Mark's Bell Tower – Climb up this tower to enjoy stunning views over Venice. Online tickets start at 13 Euros.
Basilica di San Marco – A beautiful church. Online tickets start at 3 Euros. 
Museo Correr – This museums covers both history and art of Venice (entrance included with ticket to Doges Palace).
Scala Contarini del Bovolo – You can climb up this small pallazo's spiral staircase to enjoy views on Venice (Entrance 7 Euros).
Ponto dell academia – One of the main bridges overlooking Grand canal.
Gallerie dell'Accademia – Museum gallery. Hosts pre-19th-century art.
Peggy Guggenheim Collection – A modern art museum.

Basilica di Santa Maria 

Squero di San Trovaso – Gondola boatyard. Head here to see how gondolas are being built.
3 Tips
1. Tourism
It is no secret that Venice is filled with tourists. Because of this most businesses cater around tourism. Sadly, restaurants are no exception. The food in Venice is overpriced and average at best (same goes with most places in Murano & Burano). We visited few places that had reasonably high ratings but in the end, wished we rather saved money. So, unless Venice is your only destination in Italy I would advise to treat yourself to a proper restaurant meal outside Venice. Get some cheap eats instead and, of course, don't forget gelato!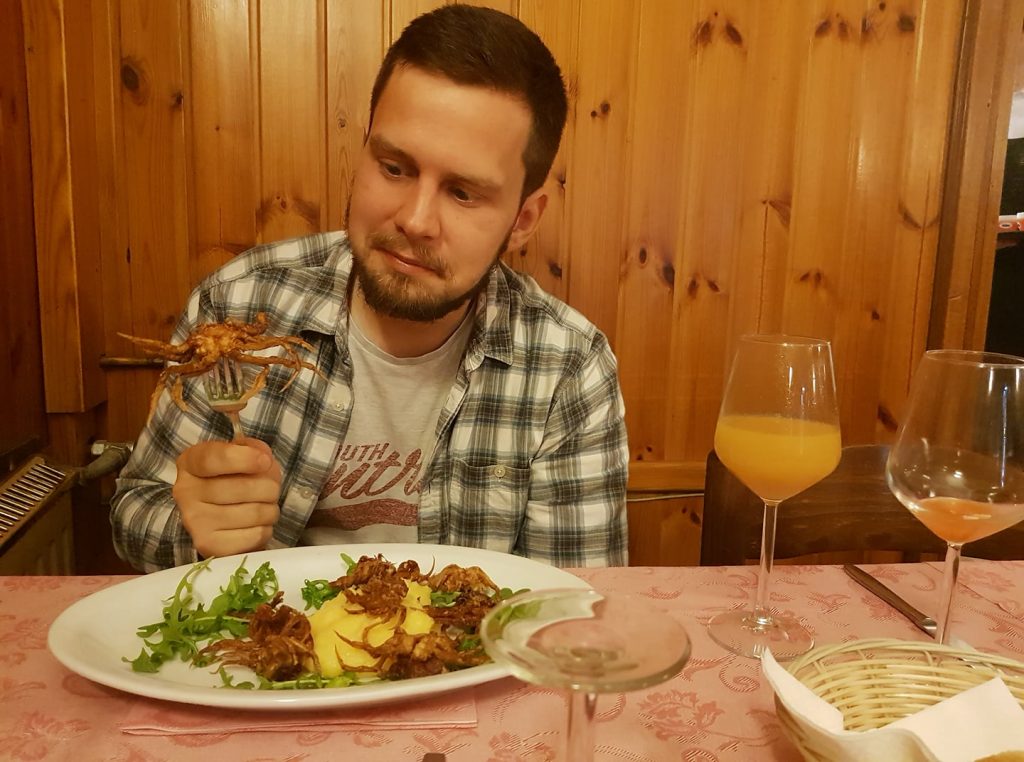 2. Get lost in the maze
Allocate some time for top attractions, though spend most of your day getting lost in the streets of Venice. My favorite neighborhoods were San Polo & Dorsoduro. Once you notice a nice café/bar go inside to rest your feet. This also serves as the perfect excuse to get one of the delicious Italian aperitifs – Bellini, Rossini, Aperol Spritz… Avoid places located on squares.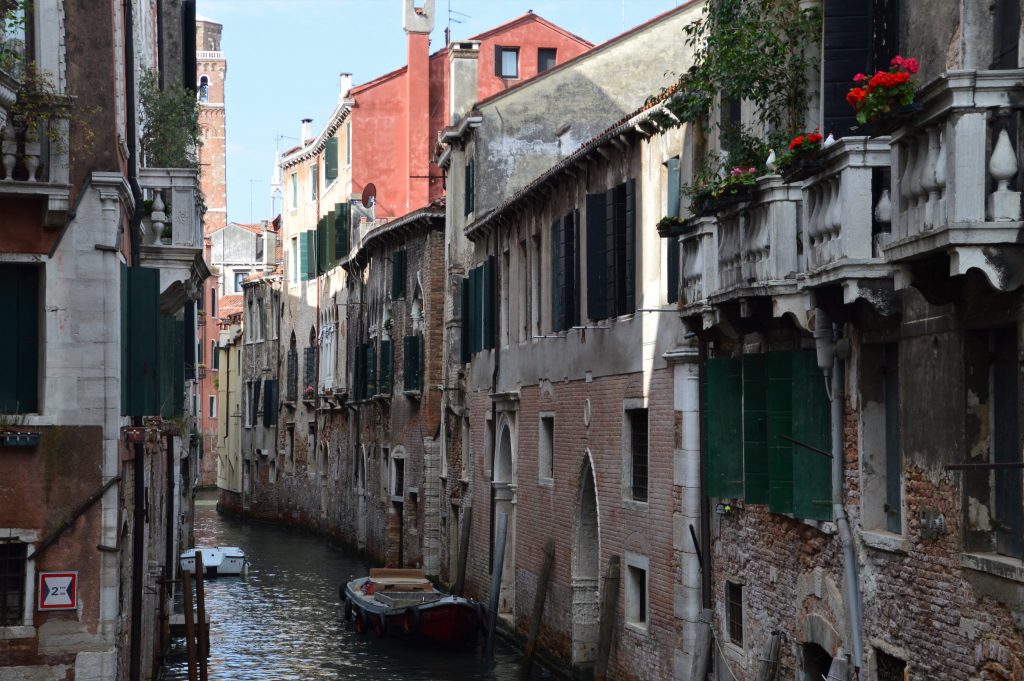 3. Gondola ride – yes or no?
If you have the money go for it, it's a nice ride. But make sure your gondolier takes you inside the canals that don't have walkways beside it. This way you will see places only available from a boat.
Don't have money to spare? Don't worry, gondola ride doesn't give you any superpowers or change your life forever. In the end, it's just an overpriced boat ride that offers views on Venice from below.