Iceland is one of those places that should be on everyone's bucket list. Even if you prefer sunny beaches over colder destinations, nobody can help but fall in love with Iceland's unique and contrasting landscape…Hot vs Cold, Fire vs Water. If you are starting to organize your road trip or even just dreaming of going then this guide will help you to prepare. I have done the planning for you and created a complete map with key Ring Road attractions, as well as shops, sleeping spots and hidden gems along the route. All you have to do is hit the road!
Ring road
Slightly longer than 1300 km, the Ring Road is the perfect way to explore Iceland and see it's wild nature. In South, you will find black beaches and beautiful waterfalls. While East offers gorgeous seashore cliffs that are great for bird watching. North-side has Myvatn with its alien scenery and West is home to the very famous Golden Circle. Along the way, you will also see hundreds of majestic horses and fuzzy sheep…oh, and of course, tons of breathtaking views.
How long?
10-7 days. In total, we had 9.5 days and felt that it was enough time. 
When go?
Summers – warmer and greener than rest of the year, though might be packed with other explorers like you.
Autumn – less tourists, plus you might see northern lights.
Winter (November-March) – Unless you rent a 4×4 car, Ring road is a no go in winter months. Though, even if you do, bear in mind that apart from West coast you may experience difficulties finding where to eat and sleep. Also, sudden road closures can quickly change your plans. However, winter is a great season to go see northern lights and perhaps do shorter road trips along the west and south coast.
Spring – We went late May and benefited from polar nights & not so many tourists. Also, campsites that were open were empty. Most didn't even have staff on site. Owners just leave envelopes or boxes where you can put the money in and pay for your stay.
Where to sleep?
I think sleeping in a camper-van is a must-do experience in Iceland. If you decide to go with one, then have a look at the map under 'Where to sleep?' section. I have added in some campsites, as well as remote spots where you could potentially park your car for a night.
Weather
Weather changes every 10 minutes. Even if it looks nice and sunny after a couple of minutes it can turn into a nasty rainstorm. Also, bear in mind that mother nature can be very extreme in Iceland. We experienced harsh storms and mist so thick there was almost no visibility at all.
The drive
The drive itself is easy. Most of the roads have perfect conditions with not that many cars (if any). Though there are other dangers to keep your eyes open for – animals, wind, sandstorms, floods. Be especially careful of the wind, sudden strong gusts of wind were an often occurrence for us. At one point our car was slightly blown off the road. Another point to note – use GPS coordinates (or Google maps), addresses will rarely work in Iceland. And don't forget that you need a 4×4 vehicle to drive on F roads. Also, some roads (with 3 digits) may be only open in summer months. So check before you go.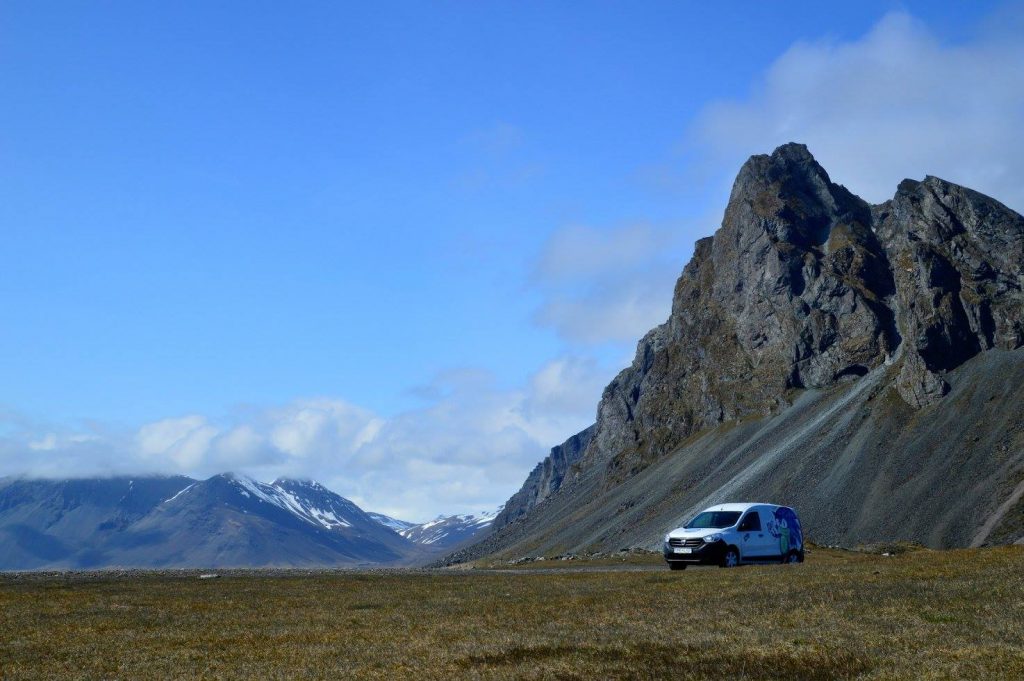 Key attractions
WEST (1-2 days)
Urriðafoss waterfall 63°55'33.6″N 20°40'35.2″W

Seljalandsfoss waterfall 63°36'57.8″N 19°59'33.0″W

Skógafoss waterfall 63°31'46.1″N 19°30'47.4″W

Solheimasandur Plane Wreck 63°27'33.1″N 19°21'52.8″W We didn't have enough time on our first day so we didn't go, but if you do you can certainly include this attraction. Just be aware that it's a 4 km walk from the parking lot to the plane wreck with nothing much on the way there.

Dyrhólaey beach 63°24'10.1″N 19°07'49.0″W

Reynisfjara Beach 63°24'15.8″N 19°02'41.3″W

Eldhraun Lava Field 63°42'45.7″N 18°14'24.9″W

Fjaðrárgljúfur canyon 63°46'16.3″N 18°10'18.0″W

Svartifoss waterfall 64°00'58.5″N 16°57'56.4″W

Fjallsárlón glacier lagoon 64°00'53.6″N 16°22'13.6″W

Jökulsárlón  glacier lagoon 64°02'53.9″N 16°10'47.3″W

Diamond Beach 64°02'40.5″N 16°10'38.9″W

Hoffell hot tubs 64°23'43.6″N 15°20'04.0″W A hidden gem! After a long day of exploration why not wind down in an outside hot tub with views on beautiful landscape. There is a small but cold changing room. Though once you sink in the hot water the relaxation will come immediately.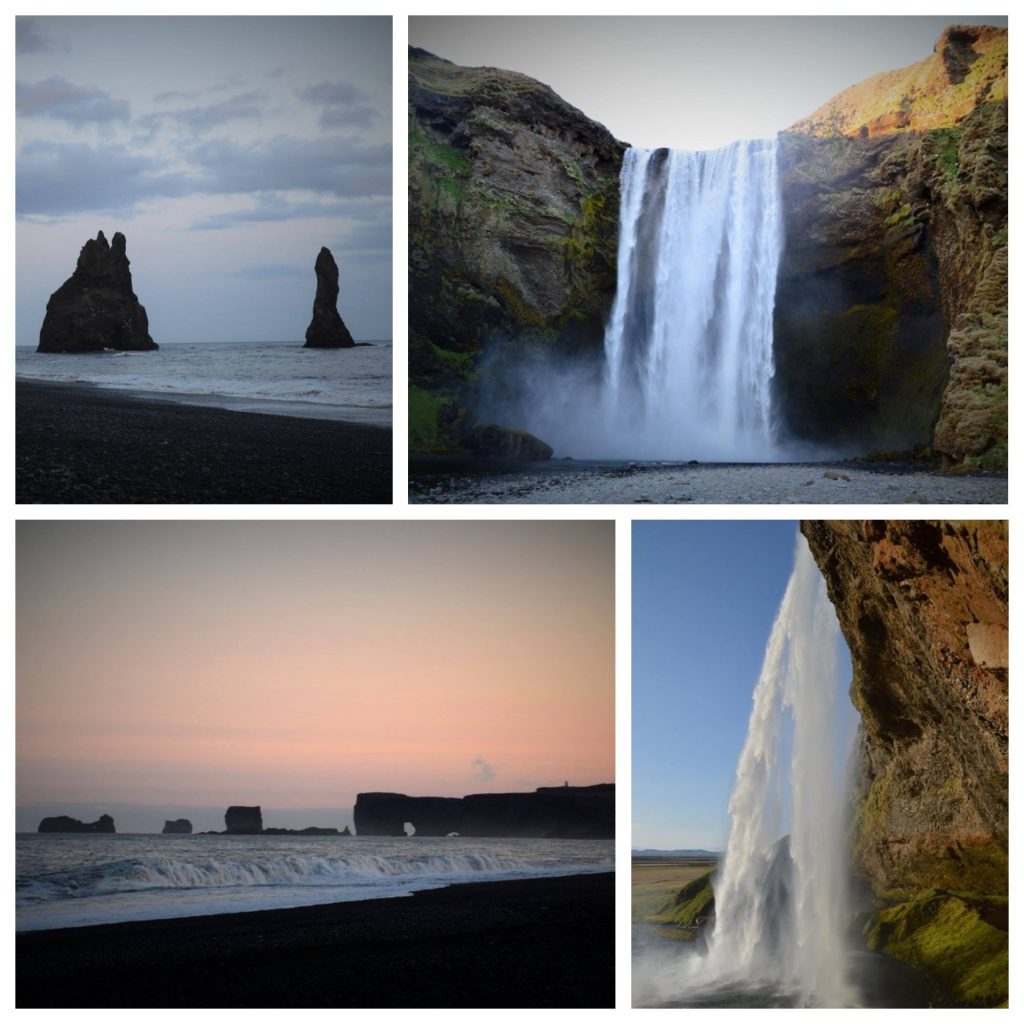 EAST (1 day)
Hofn village 64°15'00.8″N 15°12'56.4″W

Stokksnes Peninsula – a favorite of mine. We were lucky enough to spot here more than 20 seals, a heard of wild horses and reindeer! There is also a small Viking village built for filming. 64°15'10.5″N 14°59'27.2″W

Lækjavik coastline 64°29'41.1″N 14°28'35.1″W

Stone museum of Petra 64°50'07.5″N 13°52'50.2″W

Klifbrekkufossar Waterfall 65°10'46.0″N 14°04'52.6″W

Fardagafoss  waterfall 65°15'53.1″N 14°22'51.2″W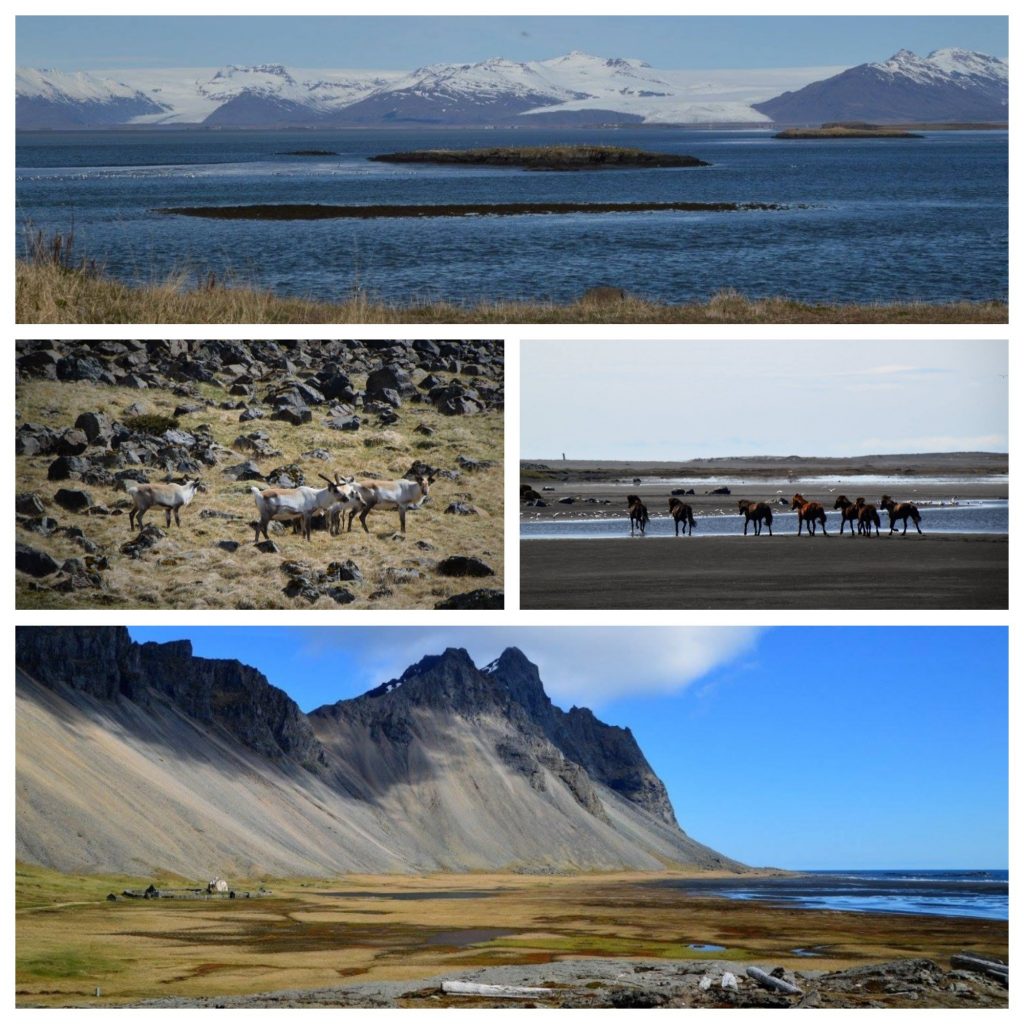 NORTH (1 day)
Dettifoss waterfall 65°49'09.6″N 16°22'44.4″W

Selfoss waterfall 65°48'20.7″N 16°23'08.8″W

Krafla crater 65°43'04.3″N 16°45'25.4″W

Hverir geothermal area 65°38'30.3″N 16°48'27.0″W

Grjótagjá cave 65°37'40.4″N 16°52'53.7″W

Dimmuborgir lava fields 65°35'12.2″N 16°54'50.9″W

Skútustaðagígar pseudocraters 65°34'08.0″N 17°02'18.2″W

Mývatn Nature Baths 65°38'09.0″N 16°50'50.5″W Similar to Blue Lagoon
NORTHWEST (1-1.5 days)
Godafoss waterfall 65°41'03.2″N 17°32'54.5″W

Akureyri town 65°40'50.7″N 18°05'14.7″W

Varmahlid/ Glaumbaer Museum 65°36'37.5″N 19°30'22.8″W

Víðimýrarkirkja church 65°32'20.1″N 19°28'16.9″W

Hvitserkur basalt stack 65°36'12.9″N 20°38'23.3″W

Kolugljúfur Canyon 65°19'57.9″N 20°34'08.7″W

Glanni Waterfall 64°45'21.1″N 21°32'55.2″W

Deildartunguhver thermal spring 64°39'48.8″N 21°24'37.3″W

Hraunfossar waterfall 64°42'06.6″N 20°58'40.6″W
SOUTHWEST (2 days)
Ljómalind Local Market 64°32'36.4″N 21°54'38.8″W

Old Akranes Lighthouse 64°18'31.7″N 22°05'40.4″W

Öxarárfoss waterfall 64°15'53.1″N 21°06'52.9″W

Lögberg 64°15'35.0″N 21°07'20.5″W

Þingvallakirkja (Þingvellir church) 64°15'26.4″N 21°07'17.4″W

Flosagjá fissure 64°15'39.3″N 21°06'32.9″W

Laugarvatn Fontana pool 64°12'53.3″N 20°43'49.8″W

Bruarfoss Waterfall 64°15'47.1″N 20°30'36.7″W

Geysir 64°18'34.4″N 20°18'11.3″W

Gullfoss Falls 64°19'30.2″N 20°07'30.7″W

Kerið crater 64°02'30.5″N 20°53'12.6″W

Reykjadalur Hot Spring Thermal River 64°01'20.6″N 21°12'41.3″W

Arnarker cave in a lava field 63°53'33.3″N 21°29'40.5″W

Krýsuvík geothermal area 63°53'43.6″N 22°03'04.5″W

Blue Lagoon 63°52'48.6″N 22°26'49.8″W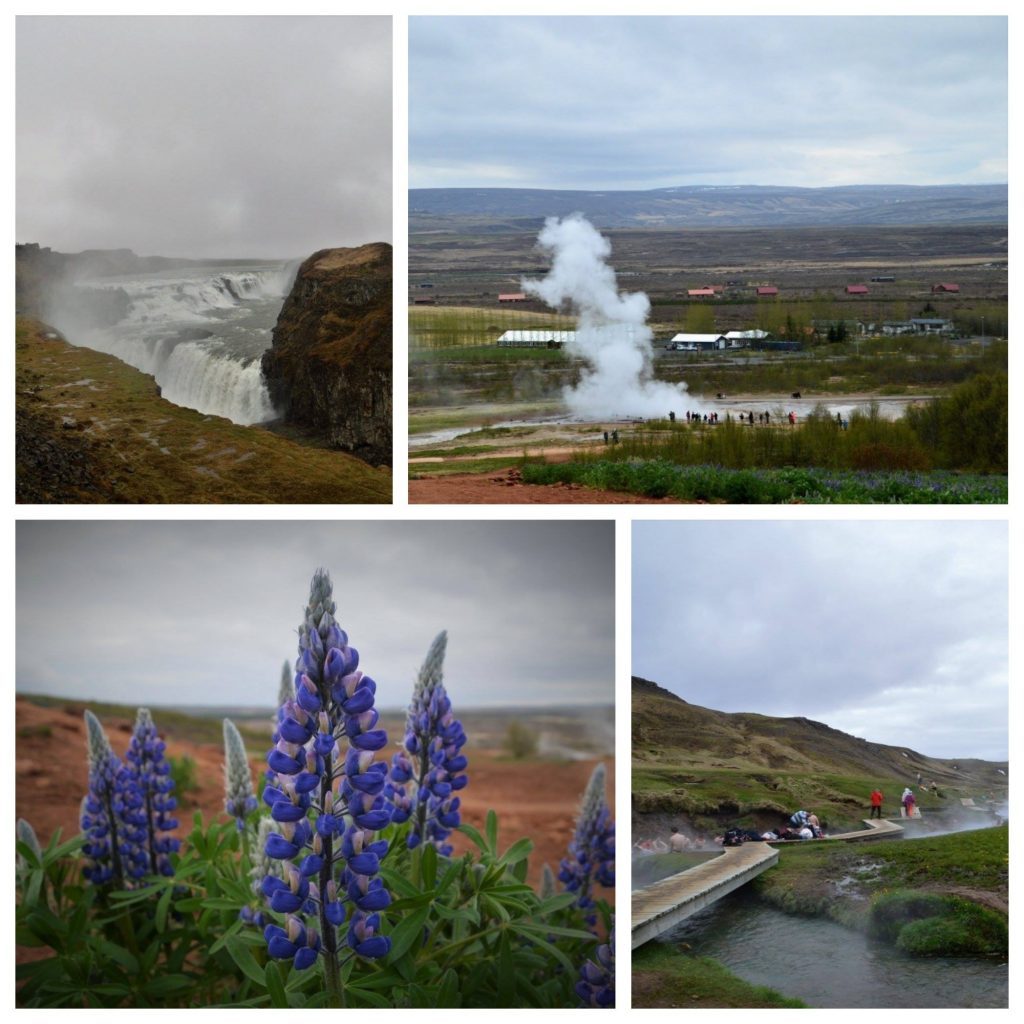 Reykjavik (half a day or even few hours)
Let's be honest Reykjavik is a lovely city, but there is nothing much to see compared to the rest of the Iceland. Half a day or even few hours is enough time to spend here. Reykjavik, does, however, have loads of restaurants with amazing food!
More time in Iceland?
If you have more time to spend in Iceland add Snæfellsnes peninsula to your itinerary. We had a really bad windstorm and mist when we were there, but despite the weather, it was still magical. If you do get nice weather when there, you can easily spend 1 to 2 days exploring the peninsula. Have even more time? Add Westfjords!
3 tips
1. Alcohol in Iceland is only sold in specialized stores called Vínbúð. Opening hours may vary depending on how big is the village it's in. They are open anywhere between 10-14, and closed around 18-19. Vínbúð doesn't work on Sundays.
2. Do not run out of gas! Fill up early on as sometimes closest gas station might be 100 km away. Or it may even be closed. Only a few stations are open all night. And while you are there you might as well grab some hot dogs!
3. It is no secret that Iceland is very expensive. Though, if you do eat out make sure it is in one (or all) of these 3 places:
Vogafjós Cowshed Cafe – delicious farm style restaurant. Try their Geysir bread and Kjötsúpa (Icelandic lamb soup with vegetables)
Teahouse next to Byggðasafn Skagfirðinga – Glaumbær museum. Try their skyr cake (or any other!) The place itself has a very cozy atmosphere.
Friðheimar is a unique restaurant located in a tomato greenhouse. Guess what? Most of their dishes are based around tomatoes, even desserts. It can get quite pricey, though when we went they served unlimited tomato soup with freshly baked bread, which was reasonably priced…Best tomato soup I've ever had!
Bon voyage!